Alanna's first area is in Montrose, PA. She is in a branch in the Scranton Stake. We got an email from her mission office to let us know her address and a photo of her with President and Sister Anderson.
Her new address is:
Sister Alanna Cottam
(always use the missionary's first name)
42 South Main Street
Montrose, PA 18801
When she was in the MTC she informed me that missionaries only anticipate having 30 minutes on their P-Day to be on the computer. With that being the case, she asked that, if at all possible, please send her "SNAIL MAIL" letters. Although she would love emails, with such a short time available she wants to spend the time writing and not reading and then digesting the information from all of her friends and family. Made sense to me, even though in today's electronic age, it will definitely be more difficult. Please take the time to send our wonderful missionary your love and supporting words through the snail mail.
We haven't yet heard from Alanna (we hope to get an email on Monday which I will post), on the map Montrose is in the farthest most part of her mission. It looks like only the Susquehana branch is further away from the mission home. Montrose is considered a borough and located in Susquehana County, PA. It will be interesting to hear what, if any, church history is nearby. The population is not quite 2,000. Which means - Alanna is in the COUNTRY!
Below are some pictures so you can see some Google pictures of her area. From what I can tell, some of these may be 4+ years old, but it at least gives us an idea before I can actually post pictures from her.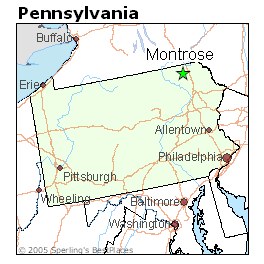 Although not a picture of her mission, per se, it gives a sense of where she is in relation to Philly.
This is Alanna's home in Montrose.
This is downtown Montrose.
Lake Montrose
On the way from Montrose to the Church building on Route 706.
OK, so it feels kind of creeper-ish to be checking out all the photos, but it's good to have some idea of the area.
She is seriously out in the country - fields of corn, barns, farm houses, lots of lakes, lots of trees...
And it should be absolutely BEAUTIFUL within the next few weeks. She will be so excited to spend fall in New England!